Nelson McCausland: Committee votes that 'deliberately misled'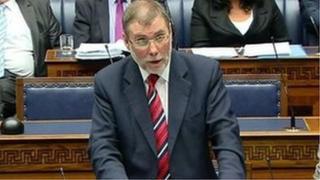 A majority on a Stormont Committee has voted for a motion stating they were deliberately misled by the social development minister, the BBC learned.
The vote came as the committee considered an interim report into the social development minister's dealings with Housing Executive contractors.
Allegations about the minister's behaviour were broadcast in a BBC Spotlight programme in July 2013.
A DUP spokesperson said the inquiry was a political witch hunt.
The spokesperson also said the minister refuted any allegation he deliberately misled the committee.
The BBC understands that a majority of members on the committee voted for the motion last month.
The committee are investigating allegations about public housing maintenance contracts made by the BBC Spotlight programme.
Mr McCausland had sent a letter to the committee to say he had met the Glass and Glazing Federation to discuss the specifications of a major double glazing program.
The programme revealed that the meeting was with Turkington Holdings, a firm who have links with the DUP.
Last year, the minister apologised to the committee for "inadvertently misinforming" them about the letter.