Boy 'robbed Tate's Avenue shop two nights in row'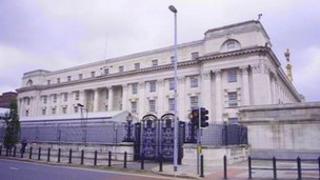 A 16-year-old boy allegedly robbed the same shop two nights in a row, the High Court in Belfast has heard.
More than £200 in cash and £380 worth of tobacco was taken from the shop in south Belfast, prosecutors said.
The youth was part of a gang of three who targeted the convenience store on Tate's Avenue, the court was told.
Prosecutors said CCTV footage showed him taking part in both robberies. In one, a knife was repeatedly thrust towards a staff member's face.
The boy was arrested nearby several hours after the second robbery.
"Part of the loot from the shop robbery was found on him," a prosecution lawyer said.
Despite having allegedly breached previous bail conditions, the judge decided to release him again but warned he would be placed back in custody for any further breaches.
The judge told him: "I'm giving you one more chance.
"If you don't take full advantage of it you only have yourself to blame."
He ordered the teenager to wear an electronic tag as part of his bail conditions.