NI21 deputy leader John McCallister to quit party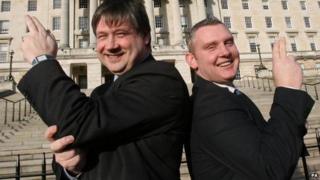 NI21 deputy leader John McCallister is to resign from the party, the BBC understands.
The party has been in disarray, amid calls for its leader Basil McCrea to step aside while allegations of sexual impropriety were investigated.
Mr McCrea has denied the claims that emerged in May, on the day of local government and European elections.
Mr McCrea and Mr McCallister set up the party in 2013 after quitting the Ulster Unionist Party.
Just two days before polling day, the two men had a very public falling-out.
The party announced it was dropping its unionist designation at Stormont to describe itself as "other" - a decision described by Mr McCallister on the front page of the following day's News Letter as "crazy" and "dysfunctional".
Its European election candidate Tina McKenzie announced she was quitting active politics, while votes were still being counted.
Just one of its council candidates, Johnny McCarthy, was elected.
Mr McCarthy said on Wednesday that the party would be continuing.
"I can only apologise to anybody who voted for the party because of what has gone on, but our ideals haven't changed," he said.
"Just because John is talking about leaving, it doesn't change our values or policies."