Larne man, Niall Lehd, jailed for three years for 'high explosives' find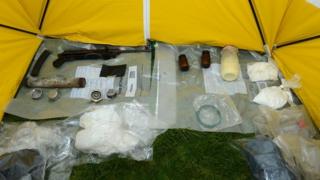 A County Antrim man has been jailed for three years after police last year discovered explosives never before found in Northern Ireland.
Niall Lehd, 25, of Seahill Road, Larne, pleaded guilty to possession of explosives and having a firearm or ammunition in suspicious circumstances.
He was arrested after a bag of "sensitive high explosives" was found on a doorstep in Larne.
The judge said that the case was "bizarre" but also a "serious matter".
He told Lehd: "I do not consider you dangerous. There is more a risk to yourself than to others."
Belfast Crown Court heard that DDNP (Diazodinitrophenol) was among the material found in Lehd's possession.
The prosecution said DDNP had never before been recovered in Northern Ireland.
The court also heard that Lehd's guilty plea was accepted on the basis that he possessed the explosives to allow other people to endanger life.
Lehd's defence lawyer described him as a "Walter Mitty character".
He added: "There is no doubt about that. He is well known by neighbours who have described him as a nuisance and a fool."
Searches
The court heard that on 28 February 2013, police officers were called to Britannia Crescent, Larne, after a suspicious item was found.
The prosecution said that police found a rucksack on the front doorstep of a house and that they "could see what appeared to be a pipe bomb and a firearm in the bag".
The court was told that a police officer standing outside Lehd's Seahill Road home was approached by the accused.
He then told officers that "everything in that bag is mine".
Lehd was arrested and he told police that there were "high explosives in the bag".
The prosecution said: "Whilst waiting for transport, the defendant said that he had dug two barrels up a couple of fields away and nodded his head in that direction.
"He said that he had taken everything from the barrels and put them in a bag and that he planned to throw the bag into the sea.''
An army bomb disposal robot checked the bag before military experts wearing protective equipment were able to examine it.
The court heard that the "primary explosive recovered" was DDNP, along with picric acid.
The prosecution added: "DDNP is a sensitive primary high explosive used commercially as an initiating explosive in detonators.
"It is sensitive to friction, shock, heat and electrical discharges, meaning that it can detonate if exposed to stimuli."
A forensic officer who examined the bag said that three grams of DDNP, used in a commercial detonator, would cause "serious if not fatal injuries" if it exploded when handling.
TNT
The court heard that during the police operation, local people told officers of hearing a "loud explosion" the previous night (27 February).
The prosecution said: "They saw the defendant in the area and one neighbour saw him with the bag at one point, and came across him hiding in bushes. He was challenged but walked off."
When police searched Lehd's house, they recovered another metal cylinder and ball bearings, along with other hardware items that could be used to manufacture explosives.
The prosecution also said "the search revealed the presence of TNT throughout the house" and that the search had to be suspended.
On 1 March, 2013, a police search in rough ground near the area found two blue barrels in gorse bushes along with a shovel.
A recovered bag contained a small brown glass jar with three grams of DDNP explosives.
They also found a partially constructed timer unit that was "designed to provide a time delay" for an improvised explosive device.
Lehd's thumb print was found on the unit.
Police also recovered picric acid and 850 grams of hexamine, which can be used to synthesise HTMD (Hexamethylene triperoxide diamine), which was described as another "sensitive primary high explosive".
'Impressionable man'
The prosecution added: "Again, HMTD has also not previously been encountered in Northern Ireland. It is not produced or used by the military or for commercial purposes due to its sensitivity."
Citric acid, ball bearings, firework fuse wire previously used in the manufacture of pipe bombs, two galvanised pipe end caps, a glue gun, rolls of adhesive tape, adhesive sticks and spray paint were also found.
Police also recovered a deactivated sub-machine gun and a magazine, with Lehd's fingerprint on it.
"The defendant was interviewed and freely admitted that the items were his but on the final interview he claimed that he had been forced to store these items on behalf of an unknown person," said the prosecution.
Lehd's defence lawyer said the father-of-two was "remorseful" and that he was an "impressionable man who had the intellectual ability of a 12-year-old".
He added: "Prison has been a learning curve for him and he will not appear back in court for these type of offences or any other type of offences."
The judge said: "However bizarre the circumstances may be, it is a serious matter that you were in possession of explosive substances, high-powered explosives, which could have caused injury to individuals or even death."
He sentenced Lehd to three years in prison and another three years on licence.
A spokesperson for the police said: "These explosive substances were extremely volatile and presented a significant risk to the public.
"Thanks to the vigilance of the local community, the assistance of community representatives and the professionalism of police and Army bomb disposal officers, this individual's activities were confined to causing damage to a house.
"The outcome could have been much more serious, had the explosives and firearm not been recovered."