Northern Ireland marks 98th Somme anniversary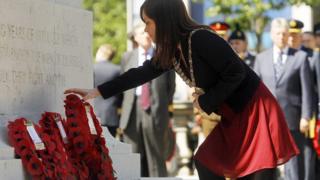 The 98th anniversary of the Battle of the Somme is being commemorated across Northern Ireland on Tuesday.
A ceremony is being held at the cenotaph at Belfast's City Hall to honour those who died in 1916.
Soldiers from the 36th (Ulster) and 16th (Irish) divisions fought in the battle between 1 July and 13 November.
Wreaths have been laid by Belfast Lord Mayor Nichola Mallon, First Minister Peter Robinson and Republic of Ireland Trade Minister Joe Costello.
The Irish government has been taking part in the Belfast commemoration since 2012.
Four hundred and twenty thousand British soldiers were killed or injured at the Battle of the Somme.
French casualties were estimated at 195,000 and German casualties at about 650,000.