Brantry Lough: 'Human error' possible cause of fish kill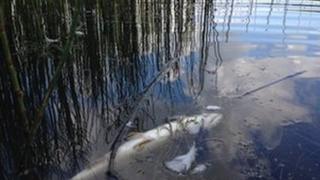 Officials are investigating if human error may have contributed to a major fish kill in County Tyrone.
It is believed hundreds of fish died at Brantry Lough, near Eglish, outside Dungannon at the weekend.
A team from the Department of Culture Arts and Leisure (DCAL) spent the day removing scores of mature brown trout from reed beds around the lough.
The lake is stocked by DCAL which issue permits for fishing. The fish kill was reported to them on Saturday.
It is believed that hundreds of fish were introduced to the lough at the weekend.
One possible cause being investigated is that a significant temperature differential between the tanks, in which the fish were transported and the temperature of the lake water, which at the weekend was about 20 degrees, may have contributed to the fish deaths.
Local fisherman Michael McGrath said he had spotted dozens of dead fish when he took his boat out on the lough on Monday.
"They were floating in two and threes right up along the lough. I couldn't believe it," he said.
DCAL said it did not yet know how many fish had been put into Brantry Lough or the cost of doing so.
It said samples of both the water and the fish had been taken for analysis, but conceded that a temperature differential was being looked at as one possible cause.
It is the fourth time this year that the lough has been stocked by DCAL.
In January, 1,000 brown trout were put into the lough.
In March, another 500 trout were introduced and again the following month, when a further 750 trout were released into the lough.