Garth Brooks: No council licence yet for Dublin gigs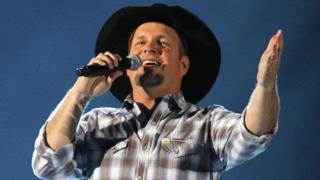 Dublin City Council has not yet made a decision on a licence application to hold five Garth Brooks concerts scheduled for Croke Park in July.
Residents living near the GAA stadium threatened legal action after the initial two concerts were increased to five in response to huge public demand.
A spokesman for the council said a decision on the licence application would be made within the next week.
About 400,000 fans have booked tickets.
The council said about 370 submissions had been received from residents, residents' groups and local businesses.
'No decision'
The spokesman said an application for a licence for the concerts was lodged on 17 April 2014.
"It is not appropriate for Dublin City Council to comment on submissions made in respect of the licence application as no decision has been made on the application to date," he said.
"A decision will be made by Dublin City Council on the application following careful consideration of the observations and meetings with the statutory agencies as required under the relevant legislation.
"The Event Licensing process is a statutory process and the application is being considered under the associated provisions of the Planning and Development Act 2000-2013 and associated regulations.
"It is anticipated that a decision will be made on the application within the next week."
The Croke Park Streets Committee, a residents' group in the area, is due to hold a press conference on Tuesday to decide whether to proceed with legal action against the GAA and Aiken Promotions, the concert promoter.
A spokesman for Aiken Promotions told the BBC:
"The licence application is currently before Dublin City Council and is under consideration. Aiken Promotions believes it would not be appropriate to comment further."