Coalisland family discover 1m long snake in back garden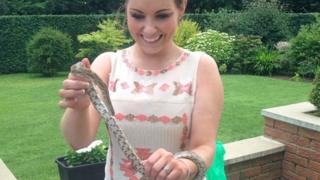 A family in County Tyrone have been paid a surprise visit by a snake.
Aisling Donnelly of Clonoe, just outside Coalisland, said her brother and his friend came across the large snake in their back garden.
She said: "It was a bit random finding a snake outside on a Sunday morning."
The family were not sure about how to handle or deal with the snake so they called the USPCA and were instructed to contact a local vet who advised them on how to handle their surprise visitor.
She said: "Of course we were a bit freaked out, nobody wanted to touch it."
However, Aisling's sister was brave enough to lift the snake and then the whole family held it after the initial fear disappeared.
"The whole country has come round to see it," she told BBC Radio Ulster.
They kept it in a large bucket that has been covered and had holes cut into it for ventilation.
While the Donnelly family had no intention of keeping the snake, Aisling added: "I wouldn't mind one actually."
However, they will have to go shopping if they want a reptilian pet, as its owner has come forward.
It turns out that it is owned by a young girl who lives a couple of miles away in Coalisland.
It is called Psycho and had been missing for six months.