Parades 'have doubled' in Northern Ireland since 2005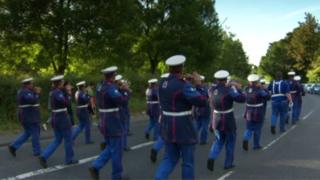 The number of parades in Northern Ireland has doubled over the last eight years, university research has shown.
In 2005 there were 2,120 marches, and last year there were 4,637. Two thirds of the marches that took place in 2013 were loyalist parades.
There are also more marching bands than ever before, with 660 currently registered - the highest ever number.
Queen's University's Dr Paul Nolan, who carried out the research, said loyalist culture has "never been stronger".
'Blood and thunder'
Members of the Upper Falls Protestant Boys' band in the Suffolk area of Belfast practise almost every Monday of the year.
They describe themselves as a "blood and thunder" band, but say their main reason for existence is to take part in competitions.
Stuart Bradshaw has been with the band since it started.
"When I hear people say we shouldn't be marching through nationalist areas, shoving our culture down their throats, I agree with them," he said.
"But this is a nationalist area and we had 42 bands in our competition this year and there was not one bit of trouble. There never has been trouble.
"And yet there is no way in or out of this estate without passing through a nationalist area," Mr Bradshaw said.
The perception that loyalist bands have links with loyalist paramilitaries is something this band wants to take issue with.
Mr Bradshaw said: "It makes me angry that people think we're paramilitaries and thugs - we're not.
"No one from this band has ever been arrested for anything while in the band".
'Family tradition'
Culture is one reason members said they joined the band - but it was not the only reason.
William Seeds, 20, joined the band because several of his family members had already joined it and he wanted to carry on the family tradition.
"People don't understand the buzz you get out of marching down the road and people enjoying the tunes you're playing.
"Yes, they're songs only British people would recognise but we're not trying to insult people. It's republicans who say that," Mr Seed added.
So, how does the issue of culture erosion square with the reality of more bands and parades than ever before?
Queen's University researcher Dr Paul Nolan said there is now a gap between perception and reality.
'Image'
"The problem is there are two narratives going on. One that nationalists are winning and the other that loyalists are losing.
"But loyalist culture, in terms of parades and bands, has never been stronger."
Bands have also benefitted from almost £1m in funding from the Northern Ireland Assembly for instruments and tuition.
Mr Bradshaw said attempts are being made to change the image of bands, but he said he believed talking is the only solution.
"When it comes to Orange Order parades, they employ us. They pay us a sum of money to join us on the parade.
"They decide where to parade - we have nothing to do with it," he added.
You can see a report on this story on BBC Newsline on BBC One NI at 18:30 BST.