George Hamilton: New PSNI chief constable marks first day in job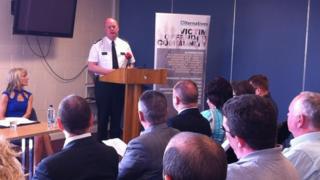 The new chief constable of the Police Service of Northern Ireland (PSNI) has begun his first day in the job by speaking at a seminar on community restorative justice.
George Hamilton has taken over from his former boss, Matt Baggott, who retired at the end of last week.
In his first public engagement as chief constable, Mr Hamilton spoke at the Farset Centre, in west Belfast.
Later, he met with members of the Policing Board.
Mr Hamilton, from Bangor, County Down, has been a police officer for 29 years.
He joined the Royal Ulster Constabulary (RUC) in 1985 and later worked on the Patten Reforms, which led the way for the the RUC to be replaced by the PSNI.
Speaking after the event at the Farset Centre, Mr Hamilton said his priority would be "to keep people safe".
"That's our job and that's what we're going to do," he said.
"That's going to be done in partnership with communities. We need to protect people, we need to prevent harm. We need to bring those responsible to justice.
"I think it's important I outline just how straightforward the police mission is. What makes it difficult and challenging is the operating environment, that is hugely difficult."
'Safer place'
Mr Hamilton was chosen to be the new PSNI chief constable in May, following an interview process carried out by nine members of the Policing Board, the body that holds the police to account.
The position is regarded as one of the most difficult jobs in policing.
Issues Mr Hamilton will have to deal with include the threat from dissident republican paramilitaries, contentious parades and an ongoing legal battle with the Police Ombudsman over alleged PSNI obstruction of investigations into 60 murder cases.
On his appointment, he said he cared "passionately" about his native Northern Ireland and wanted to make it "a safer, better, more confident place".
He saw off competition for the £195,000-a-year job from Metropolitan Police assistant commissioner Cressida Dick and An Garda Síochána (Irish police) assistant commissioner Derek Byrne.
Before his promotion, Mr Hamilton spent the previous two and half years in the post of PSNI assistant chief constable.
'Major change'
A PSNI statement said that during this period he helped to deliver "significant criminal justice reforms", including the setting up of a new Victim and Witness Care Unit.
He was also an assistant chief constable in Strathclyde from 2009 to 2011, during which the PSNI said Mr Hamilton "led a major change programme and was the lead for Homicide and Serious Crime issues for all of Scotland".
In 1994, shortly after he was promoted to the role of RUC inspector, Mr Hamilton was seconded to England for three years where he worked on a range of police training and organisational development projects.
Shortly after his return to Northern Ireland, he began working on the Patten policing reforms, which saw the RUC replaced by the PSNI in 2001, as part of the peace process.
Mr Hamilton's role included helping to create the PSNI's code of ethics.
In addition to his policing credentials, the new chief constable also holds a degree in Politics and Economics and a Masters in Business Administration.
His former boss, Matt Baggott, has described Mr Hamilton as "an outstanding police leader with significant skills and experience".