Belfast man drowns on holiday in Bulgaria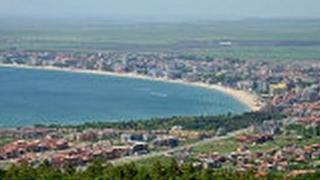 The family of a Belfast man who drowned on holiday in Bulgaria last week have gone to the country to bring his body home.
James Kelly, who was in his 20s and who was originally from the Shankill Road area of Belfast, died on Wednesday.
Mr Kelly had a young daughter. He had been on holiday with his partner in the Sunny Beach resort on the Black Sea when he died.
He was the nephew of murdered loyalist Bobby Moffett.
Mr Kelly's aunt, Irene Owens, said: "They were out on the peddle boat and James stepped out. The water was still up to normal, he was still standing.
'So happy'
"His girlfriend said that the next thing she saw was his head bobbing up and down.
"Next thing, when she looked, he was gone."
"James was telling Lily, his mum, that it was the best holiday he had ever been on.
"It was brilliant, he enjoyed it. He was so, so happy."
Democratic Unionist Party councillor Brian Kingston said it was a "terrible tragedy".
He said his "thoughts are with the family".
Mr Kelly's uncle, Bobby Moffett, was shot dead on Belfast's Shankill Road in May 2010.
The now defunct Independent Monitoring Commission, the body set up to scrutinise paramilitary activity, found that the Ulster Volunteer Force's leadership had sanctioned the 43-year-old's killing.