Peter Robinson holds talks with Bank of England governor Mark Carney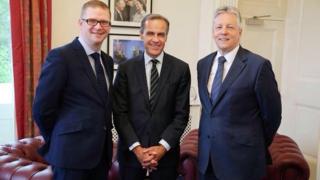 First Minister Peter Robinson has held talks in Belfast with the governor of the Bank of England, Mark Carney.
The talks, held at Stormont Castle, were described as wide-ranging.
A statement said the meeting covered issues such as the housing market, interest rates, business lending and the local banking sector.
It is the first time that the first minister has met with Mark Carney for talks.
Peter Robinson said he "welcomed the opportunity to meet with Governor Carney".
He said the meeting would "ensure the issues affecting people in Northern Ireland are given full consideration when the bank is making decisions impacting on the entire United Kingdom".
Finance Minister Simon Hamilton also attended the meeting.
Hit hardest
Interest rates have been at a record low of 0.5% since 2009.
But Mr Carney has said rates are likely to stabilise at around 2.5% in three years' time.
Future rises are likely to hit Northern Ireland households the hardest of any part of the UK.
Northern Ireland mortgage holders are classed as the most vulnerable because of a drastic slump in property values since 2007.
This has left many households in negative or limited equity.
Mr Robinson added: "Access to finance has been a major concern for some time, but there are encouraging signs the lending environment here is beginning to improve."
He said the local economy is showing signs of "positive momentum" after a deeper, more prolonged recession than elsewhere in the UK.