Ombudsman/PSNI legal action: George Hamilton and Michael Maguire in talks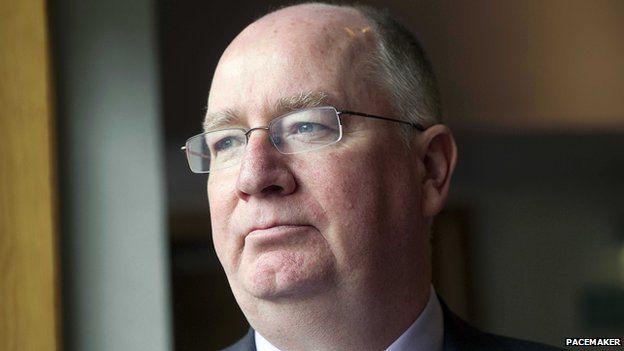 Talks have been held in a bid to settle legal action over alleged PSNI obstruction of investigations into 60 murder cases, the High Court has heard.
The case has been discussed by the ombudsman, Dr Michael Maguire and incoming PSNI chief constable George Hamilton.
A judge was told on Friday that interim measures have been agreed.
He was also told that "constructive" discussions are to continue amid hopes that a resolution will be reached.
Dr Maguire issued unprecedented judicial review proceedings in an attempt to force police to hand over sensitive intelligence information.
He wants the material as part of investigations into recent and historic cases involving allegations of police criminality and misconduct by failing to properly investigate murders.
Claims of collusion between some police officers and the killers feature in many.
According to the ombudsman, his requests for information have been turned down on more than 100 occasions.
One of the cases in which the PSNI stands accused of blocking Dr Maguire's staff is the Loughinisland murders in 1994 when loyalist gunmen shot dead six people as they watched a World Cup football match in the village bar.
Earlier this month, the High Court was told access to material is being sought in up to 19 ongoing investigations.
Lawyers for the oversight body argued that the refusal to hand over the files was irrational and in breach of a memorandum of understanding drawn up to ensure full co-operation.
It was alleged that Ombudsman investigators have been turned away from PSNI buildings as part of the alleged obstruction.
Although counsel for the chief constable resisted the action, claiming it was inappropriate and taken with "unseemly haste", Dr Maguire was granted leave to seek a full judicial review.
'Very constructive engagement'
At that stage the judge adjourned the case for a fortnight to allow both sides a chance to end the impasse.
In an update on Friday, a lawyer for the PSNI, told Mr Justice Treacy there had been "very constructive engagement" between the parties.
He revealed: "The incoming chief constable and the police ombudsman have met this week to discuss the case.
"We hope it won't trouble the court."
A lawyer for the ombudsman, described the meeting as "very useful and mutually beneficial".
Sounding an equally optimistic note about reaching a resolution, he added: "The ombudsman is content to continue those discussions and interim measures are in effect agreed whilst those discussions are ongoing."
Mr Justice Treacy agreed to list the case for a further review in September.
Relatives of terrorist murder victims and campaigners gave a mixed reaction to the meeting.
Raymond McCord, whose son Raymond Jr was beaten to death by a north Belfast UVF gang in 1997, said: "They can use all the fancy jargon they like, the simple fact is we came down to hear the police are handing the papers over, and we haven't heard that."
Mark Thompson, of Relatives for Justice, added: "We hope this will now move swiftly to Dr Maguire getting all the information and intelligence he requires to conduct thorough investigations without any hindrance or delay."
Related Internet Links
The BBC is not responsible for the content of external sites.