Northern Ireland business leaders in talks appeal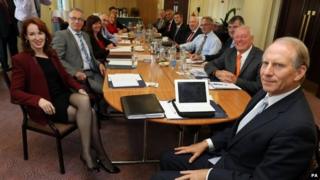 Northern Ireland business leaders have urged politicians to "once and for all" resolve the contentious issues of flags, parades and the past.
Party leaders will hold talks on the issues this week.
Talks over the Christmas and New Year period failed to reach all-party agreement.
CBI Northern Ireland, the Institute of Directors and the Northern Ireland Chamber of Commerce and Industry have called on the parties to reach a deal.
"There is a high expectation within the business community that this week's talks will resolve our outstanding issues once and for all," they said.
"In our view, it is critical to resolve the sensitive issues which continue to constitute the missing element in our efforts to build a successful, vibrant economy in Northern Ireland that will benefit the whole community.
"Northern Ireland must become a place where mutual respect, tolerance and acknowledgement of other points of view allow our people to thrive. We believe that broader perspectives and broader horizons lead to broader opportunities.
"The business community therefore wholeheartedly supports the search for solutions to the divisive issues that only serve to draw people back into narrow mindsets. A successful resolution to these talks will provide a significant boost to confidence across the community."
The previous talks were chaired by US diplomat Dr Richard Haass and his associate, Dr Meghan O'Sullivan.