Orangeman Darryl Hewitt: 'Sack the Parades Commission'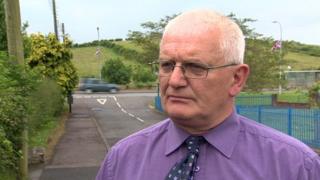 A leading Orangeman has called on the Secretary of State to sack all the members of the Parades Commission.
Portadown Orange Order district master Darryl Hewitt made his comments after the commission said it would not order a new review of a decision on a contentious parade in the town.
Mr Hewitt told the BBC that the members of the commission are not "fit for purpose".
He included the chair Anne Henderson in his remarks.
He added that the Secretary of State Theresa Villiers, who appointed the members of the commission, should "sack them forthwith".
On Wednesday, the commission reversed a previous ruling and decided a parade could not go into an area that unionists call Victoria Terrace, but which nationalists say is part of the Garvaghy Road.
On Thursday, a DUP delegation met the Parades Commission and claimed the commission had agreed to review their decision for a second time.
However, the commission said there will be no review of their decision.
'Crisis in confidence'
Earlier, a joint delegation of unionists and Orange Order representatives met with the secretary of state to speak about the "exacerbating situation" around parades.
It said that recent decisions around parades in north Belfast and Portadown had created "a crisis of confidence" in the Parades Commission.
The statement added that members of the DUP, UUP, PUP, TUV, UPRG (Ulster Protestant Research Group) and Belfast County Grand Orange Lodge would "act collectively on the parading issue in the days and weeks ahead".
Martin McGuinness has said he is seeking the support of other executive party leaders for a joint statement appealing for a peaceful parading season.
The deputy first minister told BBC Radio Ulster's Inside Politics programme that he has circulated a draft statement acknowledging the efforts made around contentious parades by community leaders and police.
The statement calls for further dialogue and local agreement in areas with unresolved parading issues.
It says violence is not acceptable or inevitable, and calls for respect for the rule of law.
The draft says that whatever politicians may think of the wisdom of its determinations, the Parades Commission is the lawful authority dealing with such matters and its decisions must be observed.