Tony O'Reilly: one-time richest businessman owes debts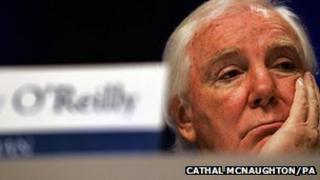 The commercial court in Dublin has refused a six-month stay or delay in a judgement against Sir Anthony O'Reilly.
On Monday, the court entered a judgement of nearly 46 million euros against Sir Anthony.
Judge Peter Kelly said he believed there was force in the argument that Sir Anthony and his investment companies are insolvent.
This means that he will have to sell properties in Ireland to meet his debts to AIB bank.
Sir Anthony is a former chairman and chief executive of the Heinz corporation and was once described as the richest man in Ireland.
He is also a former Irish rugby international and one-time owner of the Belfast Telegraph newspaper.
During the hearing, lawyers for Sir Anthony admitted that he also owed large amounts to other banks and financial institutions.