Noleen Adair: Tributes for 'inspirational' cancer campaigner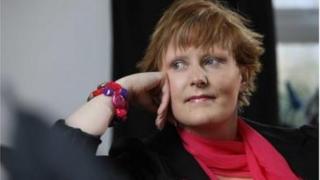 Tributes have been flooding in for breast cancer campaigner Noleen Adair who died on Thursday, aged 35.
She set up the charity Pretty 'n' Pink seven years ago to raise awareness and funds to help other women with cancer.
She first contracted cancer when she was 22. It returned when she was 25 and, in 2008, she was told the disease was back.
Nevertheless, in the next seven years, she fought cancer and raised £500,000 despite her illness.
She found the strength to sky dive, complete challenging treks and work with Friends of the Cancer Centre that donates money to help women and families who are not in a position to buy wigs, homeopathic treatments, childcare, transportation to hospital or have a memorable family day out.
She also became a foster mother.
She told the story of her cancer on the Pretty n Pink website.
"On Friday 9 May, I got the sad news that my cancer has returned for the fourth time," she wrote.
"I look okay and feel okay and can't believe that it is back again, so fight number four begins. I have already started my chemotherapy so will keep adding to this as the time goes by.
"I do believe that everything happens for a reason as my life has taken a completely different path and I am now helping others which I thoroughly enjoy.
"The most important thing I have to do now is thank my family and friends for all their love and support and also Gavin, who has been by my side through it all. Without him I never would have got through all of this."
'Inspiration'
Announcing news of her death, her husband, Gavin, said she died peacefully in her sleep with her family around her. He said his wife was an inspiration who had helped thousands of other women cope.
"No-one who witnessed her fight against the inevitable tide of disease, could help but be moved to tears by her spirit and unwavering positive attitude. Noleen fought like this for 13 years - never running out of hope or courage - but in the end she simply ran out of strength," he said.
"She did, however, accomplish more in her short life than most of us could ever dream of achieving,"
When news of her death broke on Twitter, messages of sympathy flooded in for her family and friends.
People described her as "amazing", "remarkable" and "truly wonderful".
Noleen McErlane, fundraising and marketing manager with Pretty 'n' Pink said: "I just feel very privileged to have shared in her work and very honoured to have known Noleen."
Noleen Adair is survived by her husband, Gavin, her parents, her sister and her brother and a close family circle.
Her funeral will take place on Monday at 12:00 BST at the Church of the Immaculate Heart of Mary in Carryduff.
Mourners have been invited to wear bright colours to celebrate her life.