John O'Dowd confirms department will fund 30 voluntary redundancies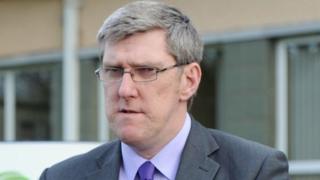 The Department of Education will fund 30 voluntary school redundancies, it has been confirmed.
Education Minister John O'Dowd said he had identified extra funding to cover the cost of the applications.
Earlier this week, there were protests about the low number of voluntary redundancy deals that Mr O'Dowd had approved.
The department said this was caused by a need to "strictly prioritise available funds".
Only 46 were allowed and only in schools that were closing or amalgamating.
Another 28 that had fulfilled the Department of Education's own criteria were turned down.
Those 28 redundancy applications, plus two more, have now been approved.
Mr O'Dowd said that funds had been found in the department's budget to grant the redundancies.
"Earlier this week, I made a pledge to continue to do everything in my power to resolve this issue," he said.
"I have identified funding from within my own budget to approve a further 30 teaching redundancy applications that were considered to have met the criterion.
"I acknowledge that this has been a difficult and uncertain time for the teachers and schools involved.
"However, it is important to note that the Department of Education's budget is still under considerable pressure which is why I have made a bid for additional funding in the June monitoring round."