Portuguese man left for dead in Larne 'rampage', High Court told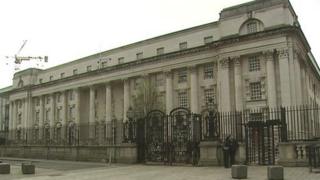 A man was left for dead after a 70-strong masked mob attacked his home during a rampage in Larne, the High Court has been told.
The victim, a Portuguese national, was beaten unconscious and suffered stab wounds and two broken legs in an assault being blamed on the UDA, prosecution lawyers claim.
Details emerged during a bail application by Stephen Mettleton.
He denies charges in connection with the disorder on 30 March 2014.
The 34-year-old from Rossmore Green, Greenisland, is charged with attempted murder, intimidation, criminal damage and rioting.
The court heard that houses were attacked by up to 100 men brandishing weapons during serious disorder in the County Antrim town.
A prosecuting lawyer claimed around 70 of those involved targeted the home at Knockdhu Park.
The court was told they pounded the doors with hammers, golf clubs and swords before entering and attacking a man inside.
He was stabbed and beaten, suffering a punctured lung.
His two daughters were in another part of the house.
The prosecution lawyer told the court: "It's the police view that the crowd dispersed because they had either killed (the man) or left him for dead."
The court was told that although the victim is Portuguese, police do not believe he was attacked because of his nationality.
A judge was told the attack was being linked to the UDA's south east Antrim unit.
Mr Mettleton was allegedly connected to the attack by DNA on gloves found in a bin not far from the scene.
But lawyers for Mr Mettleton, who is not accused of paramilitary membership, said their client denied the charges against him.
Mr Mettleton insists he was nowhere near the scene.
Refusing bail, Mr Justice Stephens cited the risks of further offences or possible interference with witnesses.