On the Runs review by Lady Justice Hallett will be published on 17 July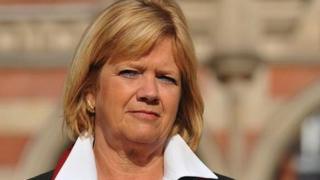 The review by Lady Justice Hallett into the administrative scheme for dealing with suspected On the Runs will be published on 17 July.
The scheme became the focus of controversy after the collapse of a case against John Downey.
He was suspected of the 1982 IRA murder of four soldiers in Hyde Park and had received a letter from the government saying he was not wanted by police.
The review was commissioned in the wake of the collapse of Mr Downey's trial.
Prime Minister David Cameron ordered the judge-led inquiry after Northern Ireland's First Minister Peter Robinson threatened to resign over the issue of On the Runs.
In a written statement put before the Commons on Thursday, the Secretary of State Theresa Villiers said: "I would like to announce that the report of the Hallett inquiry will be published on 17 July.
"On that day, I will make a further statement to this house and lay the report in both houses.
"As the person responsible for publication of the Hallett report once it is delivered to me, I have a duty to act in a way that is compatible with the European Convention on Human Rights.
"To fulfil this duty, I need to take steps to satisfy myself that publication of the report will not breach Article 2 of the convention by putting the lives or safety of individuals at risk."
Ms Villiers went on: "In order to comply with these duties, prior to publication the report has to be checked by a team of legal advisers and officials in relation to human rights and national security matters.
"This is in line with the approach used for the Bloody Sunday, Billy Wright and Rosemary Nelson inquiries, and the de Silva Review.
"The report is being prepared for publication by Lady Justice Hallett's team.
"I will see the final report for the first time on 16 July, 24 hours before publication."
A separate inquiry is being conducted by the Northern Ireland Select Committee.
It is examining how over 200 people were told they were no longer wanted for paramilitary crimes committed before the 1998 Good Friday Agreement.
On The Runs are those suspected, but not convicted of paramilitary offences.
The case against Mr Downey collapsed after Judge Mr Justice Sweeney dismissed the case after it emerged Mr Downey had a letter from government officials mistakenly telling him he would not face criminal charges for the bombing. It emerged during the case that several hundred letters had been issued.