Portadown march: Parades Commission will not review decision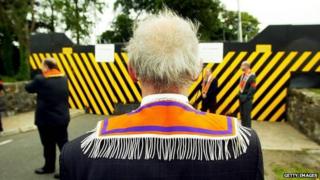 The Parades Commission has said there will be no review of its decision to restrict a march in Portadown.
The commission had prohibited marchers from travelling along a stretch of road that marchers called Victoria Terrace.
Earlier, DUP MP David Simpson had said the commission was to review its decision for a second time.
However, a statement from the commission said their decision "remains in place".
The statement said: "Where the commission receives a review request and determines that it does not contain new information or representations, the standard letter rejecting the review application states the commission's willingness to meet the person making the review request to discuss the issues or to provide clarification."
The commission had originally decided to allow two bands and 200 marchers to walk along a stretch of road that the marchers called Victoria Terrace.
However, nationalists describe it as part of the Garvaghy Road.
On Wednesday, the commission said it was prohibiting the marchers from going along Victoria Terrace. It had revised its ruling after receiving fresh information, it said.
However, on Thursday, a DUP delegation met the Parades Commission.
After that meeting, Upper Bann MP Mr Simpson said the commission had agreed to review the decision again after the DUP presented it with new evidence.
"We are getting a review which was our aim and objective," Mr Simpson said.
"We gave them new evidence, fact-based evidence and I think that is important - Surveys which had been carried out in the area by some of our local members."
John O'Dowd, Sinn Féin, said nationalists would refer to the road in question as the Garvaghy Road area.
"It is part of the broader Garvaghy Road area," he said.
"It is like referring to the Falls Road. It is a long stretch of road with different names on different sections.
"But I'm not interested in the geography or the name titles of roads. I am interested in resolving contentious parades whether they be in Portadown or elsewhere. I think that is what everybody needs to be focussed on."
Mr O'Dowd said that the fresh information that led to the revised ruling earlier this week had come from his party.
"We repeated their determination of the weekend previous to a parade in that area where the Parades Commission turned it down because it would be detrimental to community relations," he said.
"If it was detrimental one week before, it would have been detrimental this weekend."