Belfast Metropolitan Area Plan delay 'causing distress'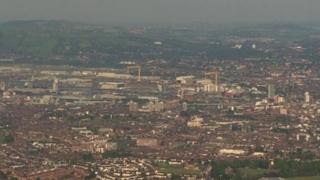 The NI Executive is causing "inconvenience and distress" by delaying a major development plan for greater Belfast, according to the Department of the Environment.
In a letter to a lobby group it claimed there had been "very limited engagement" by the executive.
Minister Mark H Durkan delivered the Belfast Metropolitan Area Plan (BMAP) to the executive last December.
He remains "keen to progress it as a matter of urgency".
But the plan - which identifies zones for retail, residential or commercial development - has not yet been adopted.
It is due to come into force in 2015 and covers not just Belfast, but areas such as Carrickfergus, Lisburn, Newtownabbey and North Down.
The letter was sent by a DoE official to a community group last month.
It said the executive had created a "sub-group" in March to examine issues surrounding the plan.
"Clearly the additional hurdles placed in the way of adoption are causing further delay, inconvenience, uncertainty and distress," the letter said.
Earlier this year. it was suggested that the First Minister Peter Robinson had concerns.
"Thanks to him and the deputy first minister, Belfast is a city without a master plan," Belfast Metropolitan Residents' Group claimed in a statement.
It is an association of community groups - one of whom received the letter.
'We are astonished by this revelation.
"It shows a contempt for due process. The plan is complete. All the required stages have been passed. It should have been adopted a year ago."