Castlereagh break-in: Ex-policeman gets £1 extra damages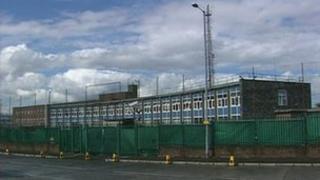 A retired police officer awarded £20,000 after his details were stolen from a Belfast security base is to receive an extra £1 in damages.
His details were stolen in a 2002 break-in at Castlereagh police station, that was blamed on the IRA.
The Court of Appeal ruled the ex-constable had been properly compensated for the impact on his mental health.
But judges decided he should be paid a nominal extra sum to cover a breach of the Data Protection Act.
The Special Branch office was broken into on St Patrick's Day 2002.
The intruders escaped with data and records on policemen and women and their agents inside paramilitary ranks.
Millions of pounds was spent re-housing officers and others whose security was compromised by the episode.
Responsibility for the burglary, which rocked the peace process, was denied by the IRA at the time.
Condition 'deteriorated'
The former Special Branch officer, who can only be identified as CR19, left the force more than a year before the break-in.
CR19 sued the chief constable for negligence and breach of statutory duty. With liability accepted, the only issue was over the level of compensation.
The former officer, who developed post-traumatic stress disorder after being exposed to atrocities during more than 30 years of service, argued that the raid led to a deterioration in his condition and alcohol dependency.
He claimed the Provisional IRA had carried out the burglary as part of a plan to kill Special Branch officers, "their main enemy".
Last December, a High Court judge held that he should be awarded £20,000 plus interest, bringing the total pay-out to £22,400.
His decision was based on a medical expert's opinion that the former officer's psychiatric issues had worsened by up to 25% for six years after the burglary.
But CR19 contested the verdict, telling the Court of Appeal: "A breach of national security is not the same as a break-in at the local corner shop."
Delivering judgment on his appeal on Thursday, Lord Justice Coghlin held that there was no valid challenge to the compensation for personal injuries.
He pointed out that a breach of the Data Protection Act in allowing the removal of personal data from Castlereagh - and probably into the hands of paramilitaries - was not raised at the original hearing.
But Lord Justice Coghlin, sitting with Lord Justice Girvan and Mr Justice O'Hara, said that assessment had taken account of distress caused by the breach.
He described the pay-out to CR19 as "by no means an insignificant award".
The judge confirmed: "We conclude the appellant must, in addition, be entitled to nominal damages of £1 to reflect the fact that there was an admitted breach of Section 4 of the Data Protection Act."