NI migrant population triples in decade, says study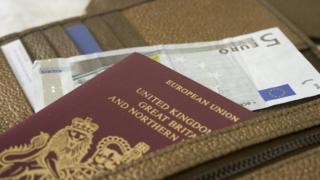 Northern Ireland's migrant population has tripled in a decade, according to a study by Oxford University.
It looked at the change in population in Northern Ireland by comparing the 2001 and 2011 censuses.
In 2001, the number of migrants was 27,266 people. Ten years later the figure was 81,314.
Belfast has the largest number (18,414) followed by Craigavon, County Armagh, (6,712) and Dungannon, County Tyrone. (5,998).
However, Dungannon saw the biggest change in its population of residents born outside the UK and the Republic of Ireland between 2001-2011.
It increased more than tenfold from 484 in 2001 to 5,998 in 2011.
Dungannon also had the largest share of migrants, who represented just over 10% of the local population in 2011 - an increase from 1% in 2001.
The average for Northern Ireland as a whole in that year was 4.5%.
The analysis of the international migrant population of Northern Ireland has been released by Oxford University's Migration Observatory.
Regional distribution
Between 2001 and 2011, the migrant population grew the most in Belfast (+11,873) followed by Craigavon (+5,602)
Between 2001 and 2011 the biggest percentage increase (+1,139%) took place in Dungannon, followed by Craigavon (+505%)
The place with the smallest share of migrants in 2011 was Strabane, where fewer than two people in every 100 (1.7%) were in this category.
Dr Carlos Vargas-Silvam who led the census project, said: "Northern Ireland saw a 199% increase in its population of residents born outside the UK and the RoI in the 10 years between 2001-2011.
"But it is important to note that these residents were less than 2% of the total population of Northern Ireland in 2001 and remained less than 5% in 2011.
"This starting point means that some towns with a small share of international migrant residents in 2001 saw a particularly sharp increase in the number of international migrants in their populations - Dungannon's increase of more than 1,000 percent is an example.
"This increase was largely due to migration from the new EU accession countries. The most common country of birth of international migrants in Northern Ireland in 2011 was Poland, followed by Lithuania."