Caroline Graham murder: Portadown teen's mother in plea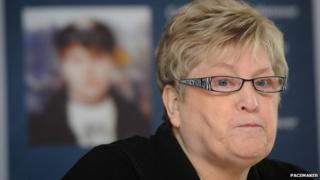 The mother of a teenager who has been missing since 1989, and is believed to have been murdered, has said all she wants is "closure".
Caroline Graham was 19 and living with her boyfriend at Hanover Street, in Portadown, County Armagh, when she disappeared.
The detective leading the investigation said he believes her remains are "somewhere in Portadown".
He said it was likely more than one person knows where she is buried.
On Thursday, Caroline's mother Barbara Graham joined with police to issue an appeal for help to find her daughter.
"All I want is closure," Mrs Graham said.
"I have lived without Caroline for 25 years and the pain has been hard to bear. It is particularly difficult on anniversaries, birthdays and family times like Christmas.
"We haven't even had the chance to hold a funeral because Caroline's body has not been recovered.
"The police tell me the investigation is continuing, but I would just like to appeal to anyone who knows anything to tell us. Please give us peace and lay Caroline to rest."
Night out
Police released new details about the inquiry during the press conference.
Det Insp Peter Montgomery said: "It was around Easter at the end of March 1989 and Caroline had been for a night out to the Coach [nightclub] in Banbridge with a girlfriend.
"She stayed part of the night with her friend in a hostel in Portadown, but was gone in the morning.
"I have information that Caroline returned to Hanover Street to get some clothes, but she has not been seen since. I believe she was murdered some time later and that her remains are somewhere in Portadown."
Searches
A 76-year-old woman arrested over the murder on Tuesday was later released without charge.
Originally from Newry, Caroline is believed to have lived in Portadown for about two years before her disappearance.
Detectives investigating her disappearance launched a murder inquiry in August 2012 after they said they had a number of new lines of inquiry.
Areas of waste ground and parts of premises, including a well, were searched.
Police said they used sniffer dogs, probes, scanners, structural engineers and an underwater search team but "nothing of significance was found".
Det Insp Montgomery said: "All our inquiries lead us to believe there is more than one person who knows exactly where Caroline is buried. We need them to come forward and tell us exactly what they know.
"Whoever is responsible for Caroline's murder may have spoken to people and they may know exactly what has happened to Caroline.
"I need to speak to anyone who saw Caroline at the Coach with her friend that night. Did you pick up Caroline and her friend and drop them off in Portadown?
"I also want to hear from anyone who has any information about Caroline's murder and where her remains might be buried. Has anyone talked to you about her murder or where she is buried?"
He said if anyone had concerns about giving evidence, they could speak to him to discuss the matter.
Police can be contacted on 02890 700 727 or 07585 22 82 83.
"The most important thing is for people to come forward - for Caroline, for her family and for justice," the detective added.