Antiques Roadshow: Hundreds head for Hillsborough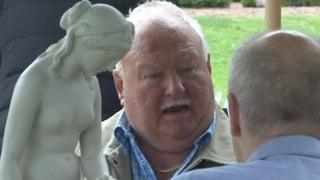 Hundreds of people are going to Hillsborough Castle, County Down, for a special edition of the BBC's Antique Roadshow.
Two prominent guests have already been captured on camera while a selection of their prized possessions were assessed by the programme's experts.
On Wednesday, the Queen and the Duke of Edinburgh heard the stories behind items from the castle's collection.
The castle is her official residence when she is in Northern Ireland.
On Thursday, people brought their treasured antiques and heirlooms to the castle for experts to examine while filming for the new BBC series.
Paintings, glassware and ceramics were among the items shown. One person brought an Arctic narwhal tusk.
The Queen and Prince Philip discussed the background of several items with specialists.
The Antiques Roadshow's Paul Atterbury, an expert in miscellaneous items, John Axford, an expert in ceramics and the Far East, and Hilary Kay, also an expert in miscellaneous items, introduced the items and spent about 10 minutes with the royals.
Special interest was shown by the royals in a Wagga Wagga stick, an Aboriginal fighting club presented to the Queen in Australia in 1954.
However, none of the experts was able to explain how the item came to be included in the Hillsborough collections.
Prince Philip was keen to find out when their discussions with the experts would air and was told it was to be broadcast in the autumn or late summer.
The Queen turned from signing the visitors' book to add: "If it is in August, then even better, because we might have a chance to see it."