David Cameron message to Northern Ireland over welfare reform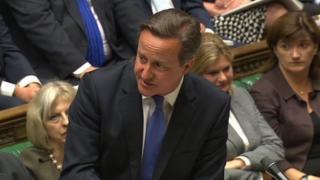 David Cameron has said Northern Ireland people must understand welfare reform is to return people to work, not to cut the budget for benefit payments.
The prime minister was answering questions in the House of Commons.
He agreed with DUP MP David Simpson who condemned what he described as Sinn Féin's "foolish" approach to welfare reform.
Westminster is reducing the amount of money it sends to the executive because it will not agree on welfare changes.
The issue has been been causing tension within Northern Ireland's power-sharing executive.
Westminster passed the legislation in February 2013, but the executive has still not agreed the bill, and £5m a month penalty charges came into effect in January.
The prime minister also promised to examine a request from the SDLP MP Mark Durkan that a promise to grant access to official records on the Guildford Four case should be honoured.
Mr Durkan said Gerry Conlon, who died at the weekend, had been promised the right to examine the records held at the National Archives at Kew.
Mr Cameron said: "It is hard to think what 15 years in prison, when you are innocent of a crime that you have been convicted for, would do to somebody.
"I think that it is absolutely right that the previous prime minister apologised as fulsomely as he did when this came to pass.
"I am very happy to look at the specific request about the records at Kew, which has not been put to me before and perhaps contact the honourable gentleman about that issue."