Call for new law over abuse of elderly in Northern Ireland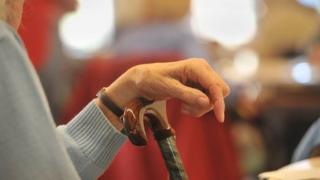 Northern Ireland's Commissioner for Older people has called for the introduction of legislation that would better protect older people from abuse.
The call follows a report that found the number of referrals of abuse had risen by more than 76% in three years.
The legislation would bring NI into line with the rest of the UK.
Claire Keatinge said there was currently no single piece of legislation that protects older people in Northern Ireland from abuse.
She said: "Abuse against an older person can take many forms, such as physical, emotional, sexual and financial, as well as through neglect, and the impact of abuse can have devastating consequences for the victim.
"Sadly, thousands of older people in Northern Ireland are being abused every year, often by someone with whom they have a relationship of trust, and the number of reports of abuse is increasing at an alarming rate.
"Older people deserve to have confidence that if they experience abuse, or are at risk of abuse, that the law can adequately protect them, and punish those who carry out abuse."
She said as the law stands, people who may be vulnerable or at risk of abuse are not afforded the same legal protection as their counterparts in England, Scotland and Wales.
Ms Keatinge said the introduction of a single Adult Safeguarding Bill would offer "the most robust protections, along with an assurance that the rights of the older person are not infringed".
"I am calling on the executive to bring forward legislation which will protect all older people from abuse," she said.
"My report recommends that the legislation should include a clear definition of what abuse is, who is at risk, as well as clearly outlining the responsibilities of those who work with older people.
"I have advised both the minister of health and minister of justice of the need to include these key areas in any legislation going forward.
"It is essential that older people can be assured that they are protected from different forms of abuse."
BBC Northern Ireland health correspondent Marie-Louise Connolly said: "The new legislation would give agencies and organisations responsible for safeguarding and protecting older people additional powers to ensure they can intervene to investigate possible cases of elder abuse and also offer immediate protection where necessary.
"For instance a social worker could demand to speak to an elderly person alone without being accompanied by a family member who could actually be the abuser."