Belfast plane in emergency landing at Cork airport because of a broken fuel gauge.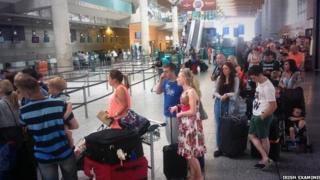 A Belfast flight was forced to make an emergency landing in Cork on Tuesday night because of a broken fuel gauge.
150 passengers on the Boeing 737 flight from Belfast to Barcelona are expected to continue their journey on the same plane around 12:00 BST on Wednesday.
The flight operators sent engineers to inspect the plane following the emergency landing.
They confirmed the plane had not been leaking fuel as originally suspected.
Cork Airport's emergency response plan was activated on Tuesday night when the aircraft reported a suspected fuel leak off the south coast of Ireland and was diverted.
However, it was stood down shortly after the plane landed safely at 23:45 BST.
A spokesman at Cork Airport confirmed that the passengers and crew were accommodated in the city overnight.
Air Contractors Limited, who operate the plane, said in a statement that engineers had established that the problem on the aircraft was a faulty instrument in the cockpit.