Stolen Ireland rugby top signed by Brian O'Driscoll found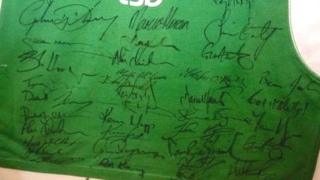 An Ireland rugby shirt signed by Brian O'Driscoll and his team-mates has been found, more than two years after it was stolen from a Belfast coffee shop.
It turned up at an auction in Belfast, not far from where the shirt was taken back in 2012.
The framed green jersey, signed by the 2004 Triple Crown winners, was stolen from California Coffee on Arthur Street in the centre of Belfast.
It was smuggled out of the shop in April 2012 by a thief.
He slipped the jersey out of its frame and hid it in a rucksack.
In spite of the theft being caught on CCTV, the signed shirt - which was bought for £470 at a charity auction - was not seen again.
Then last week, the signed jersey turned up at a Belfast auction.
Cafe co-owner Edmund Byrne said: "My brother, Ronan, happened to be at the auction preview and couldn't believe his eyes when he spotted the shirt.
"The way it was signed, with Brian O'Driscoll's signature right in the middle, and one of the signatures going over a seam made it very distinctive. As soon as he saw it, he knew it was the one had been stolen."
The shirt is now back at the coffee shop.
"We're so pleased," said Edmund. "We're going to auction it ourselves now for charity through our Facebook page or people can bid for it if they come in and see it. All the money is going to Action Cancer."
The thief who took the 'lucky' green shirt has still not been caught.