Parades Commission reviews Portadown loyalist march decision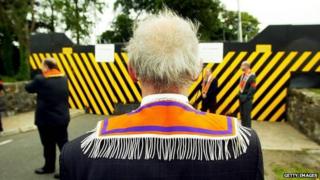 The Parades Commission is reviewing its decision on a contentious loyalist parade in Portadown, County Armagh.
The Garvaghy Road Residents Coalition has objected to the route.
However, unionists said it would pass along Victoria Terrace, which they say is not part of the mainly nationalist Garvaghy Road.
Orangemen have been banned since 1998 from going down the Garvaghy Road after their march from Drumcree church on the first Sunday of July.
The Parades Commission, which makes determinations on contentious marches, said it could not comment on details about a decision under review.
'Fresh information'
In a statement, it said it had received a request to review its decision on a proposed parade organised by the Parkmount Arch Committee on Saturday.
"The commission has concluded that this request contains fresh information and, in line with procedure, will meet today to review its original determination," it said.
In its original determination, the Parades Commission said part of the route would take place in the "lower Garvaghy Road area".
The parade is not being organised by Portadown District Orange Lodge.
DUP MP David Simpson said he hoped it would "be able to proceed without hindrance".
"Conflicting reports in recent hours have communicated anger from nationalists residents claiming that the parade will be travelling along the Lower Garvaghy Road," he said.
"However, we must get our facts right and understand that Victoria Terrace is not part of the contested Garvaghy Road," he said.
The DUP said Victoria Terrace was a mixed area.
Breandán Mac Cionnaith from the Garvaghy Road Residents Coalition said the march was being seen as a "provocative action".
"This is a parade that our community feels there is no call for," he said.
SDLP assembly member Dolores Kelly said: "It is a new parade.
"Residents are very worried about this march - they thought the issue of Drumcree had been settled."
During the parade, a new arch will be dedicated. It is understood it will be dedicated to a local Orangeman who died recently.
The organisers, the Parkmount Arch Committee, declined to comment until after the Parades Commission review was complete.