Police training college: Team recommend that Tyrone plan continues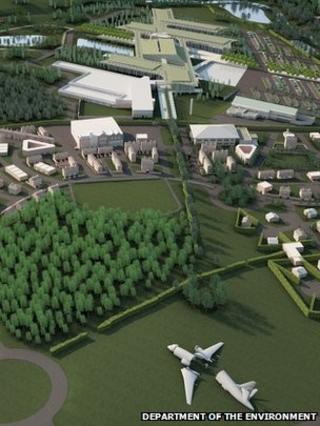 A team in charge of plans to build a new training college for the police and other emergency services at Desertcreat near Cookstown will recommend that the project continues.
The 210-acre site was bought by the Policing Board 10 years ago, but construction work has still not started.
The plan was put on hold in April.
The preferred bidder said it could not complete the project for less than £133m - almost £20m over budget.
There has been much speculation that the plan would be scrapped because of escalating costs, but the BBC understands a programme board in charge of the project will next week say it should continue.
The initial plan was to build what was described as one of the best police training colleges anywhere in the world. That later changed to also include facilities for the fire and prison services.
It was to be a huge complex with accommodation for more than 300 people, 40 classrooms and purpose-built villages to train police officers and firemen in a variety of real life situations.
Ten years on, it is still a greenfield site.
Re-evaluation
In April, the programme board announced that it was putting the project on hold because the company selected to build the college, a consortium consisting of Spanish company FCC and Northern Ireland firm Gilbert Ash, said it could not do so for the budget allocated.
The training college programme board, which is comprised of representatives from the PSNI, fire and prison service, the department of justice and health, and the Policing Board, has spent the past two months re-evaluating the plan.
There has been much speculation that the board would declare the project dead and recommend refurbishing existing training facilities, or building a much smaller college in a new location .
But the BBC understands that is not the case.
At this stage, no other potential locations have been considered and it is understood the board will tell the justice committee next week that it believes the Desertcreat project should continue.
Escalating construction costs mean the estimated bill for building the college as initially planned would be almost £140m.
That is £26m more than allocated so the board is revising the plan - making changes to the overall design, the number of buildings, and the construction materials to be used.
Sources say more work is needed but they believe the project can be delivered close to the original budget.
The Stormont Executive will have the final say. A joint training college is a commitment in the Programme of Government and was initially endorsed by the departments of health and justice.
The two departments will have to approve any new revised business plan, and get the support of the executive for the project to succeed.
If approval is given, it is estimated that the earliest possible opening date for the college would be 2016, 12 years after the site was purchased.