Stephen Farry: NI needs higher skilled apprentices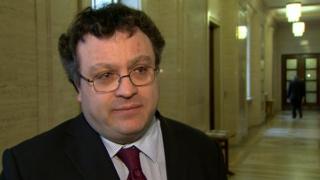 Apprenticeships in Northern Ireland need to focus on higher skilled jobs, the employment minister has said.
Stephen Farry was launching a new strategy for apprenticeships.
The minister's plan also involves creating an applications portal that will function like the Ucas system used by students applying for university.
Mr Farry said that financial incentives could be used to encourage more small businesses to take on apprentices.
He said that he had already initiated "high level" apprenticeship pilots in professional services, ICT and engineering.
He added that "significant interest" has also been expressed in extending the pilots work to include finance and the life science sectors.
His department will also produce an annual "skills barometer" that will identify the current and future skills needs of the local economy
It will help identify where further skills development will be required.
The minister said that the new model of apprenticeships should be in place by 2016.