Flags, parading and the past: No talks better than half-hearted try?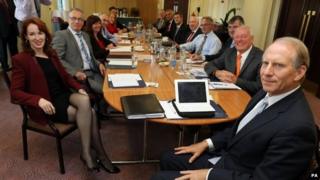 Few would argue against the maxim that it's "better to jaw-jaw than to war-war", but that does not mean every negotiating session is of equal value.
Talks like those that led to the Good Friday and St Andrews agreements were undoubtedly historic.
The late night Hillsborough Castle negotiations on devolving justice circumvented a looming crisis.
The Christmas and New Year Haass talks, even if they ended without a deal, appeared to be a serious attempt to confront some of Stormont's most divisive issues.
But the "intensive talks" expected to convene soon simply do not feel right.
Atmosphere not conducive
The impending storm in north Belfast might lend urgency to local efforts intended to mitigate the impact of any confrontation on the ground.
However, the atmosphere is not conducive for a wider overarching deal replacing the Parades Commission or endorsing the other new institutions suggested during the Haass talks.
It's not just north Belfast.
The row over DUP leader Peter Robinson's remarks on Islam, Gerry Kelly's thwarted suspension from Stormont and Sinn Féin's decision to reject the Northern Ireland Affairs Committee's invitation to testify over on-the-runs all contribute to the impression that the Stormont politicians are more intent on scoring points against each other than laying the foundations for compromise.
Even the way Mr Robinson cancelled his investment mission to Brazil without consulting Martin McGuinness pointed to the dysfunction at the heart of the administration.
The first and deputy first ministers have set up a secretariat to support any talks, staffed by civil servants.
That should provide efficient legal and administrative back-up.
But a Stormont official - no matter how talented - cannot substitute for an independent chair seeking to drive discussions forward.
Accepting his peace prize in Tipperary, Richard Haass had the good grace to acknowledge he would have readily foregone the award for the agreement he was not able to broker at the New Year.
In remarks similar to the ones he made to the US Congress before St Patrick's Day, Dr Haass warned of the dangers of complacency.
He argued that the vast majority of people were ready to compromise and move on, and deserved leaders willing to make compromises and defend them.
Despite Dr Haass's exhortations, the plate tectonics don't appear to be in place for a deal.
If the summer talks reach the same negative conclusion as the winter negotiations, it will further devalue Stormont's already damaged currency.
In that event, would no talks be preferable to politicians going through the motions?