NI Enterprise Minister Arlene Foster on US trade mission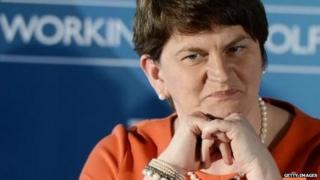 Northern Ireland Enterprise Minister Arlene Foster is leading a trade mission to the US.
Mrs Foster begins her four-day visit in Los Angeles, before moving on to San Diego, San Francisco and Chicago.
She will meet existing investors as well as firms considering Northern Ireland as a potential location.
"Overseas visits are vitally important to our continuing relationships with international investors and trade partners," she said.
She added: "We have been told numerous times that potential investors appreciate the direct access to government that these meetings provide and I am confident that my programme of visits this week will produce good results for Northern Ireland."
Creative industry
One of her first meetings in Los Angeles was with senior executives at television firm HBO, which chose to film much of Game of Thrones in Northern Ireland.
"Game of Thrones has already generated over £87m for the local economy and the filming of season five is expected to boost that figure by a further £20m," she said.
"I look forward to continuing to work with HBO with a view to maximising the potential benefits offered by the creative industry sector in Northern Ireland."
The minister began the day with a business breakfast organised by diaspora group NI Connections.
"Northern Ireland people are doing amazing things all over the world and, for that reason, it has never been more important to build a global network of people with local roots," she said.
"Northern Irish Connections is all about reconnecting with that 'extended family' and harnessing their goodwill to spread the word and continue to build on our reputation as a good trading partner."
As part of her visit to San Diego, she will accompany 13 businesses and organisations at the BIO International Convention, a major life sciences exhibition.
"By exhibiting at BIO, either on the Invest Northern Ireland stand or by themselves, our companies can reach influential decision-makers who come to BIO to discover new players in the industry, form partnerships and evaluate emerging technologies," she said.