Green light for Belfast city centre apartment block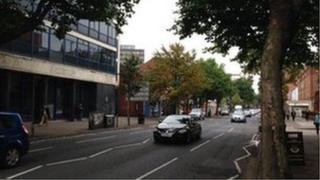 Planners have granted permission for the development of a nine-storey apartment block on Belfast's Dublin Road.
The project, which will provide 58 apartments, is being developed by the London-based Richland Group.
The original plan was for a 10-storey building but it was reduced in height after planners said it would be too tall for the area.
Construction is expected to begin early in 2015 and finish in summer 2016.
The developers said the construction phase will provide work for about 200 people.
The Richland Group is controlled by the Dungannon-born businessman Gary McCausland.
He said the development will help regenerate a "a rundown part of the Dublin Road".
He added that his firm was looking for further opportunities in Northern Ireland.
A glut of apartments was built in Belfast during the property bubble but very few have been developed in the last five years.
There are other apartment schemes in Belfast with planning permission but work on them has not moved to the construction stage.