New York Stock Exchange sells Belfast technology division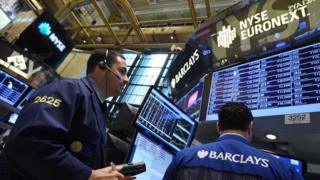 The New York Stock Exchange's (NYSE) Belfast technology business has been sold to SR Labs for an undisclosed sum.
The business had effectively been up for sale since Intercontinental Exchange (ICE) bought NYSE for $11bn (£6.46bn) in 2013.
That deal included NYSE Technologies, which has a major presence in Belfast.
At the time of the takeover, ICE said it intended to sell most of the technology businesses and this is its first disposal.
The Belfast operation grew out of a local company, Wombat, that NYSE bought in 2008 for around £100m.
The new owner is a New York-based firm that provides high speed market data to the financial industry.
Srinivasan Ramiah, founder and chief executive of SR Labs, said he was "excited" by the deal.
"Together, SR Labs and Wombat will deliver significant increases in performance and value to our combined client base," he said.
He said the merged company would be "the first choice for market data and market access for financial firms globally".
Insight Venture Partners, an existing SR Labs investor, provided additional funding for the acquisition.
The decision in 2008 by NYSE to invest in Belfast was seen as a major boost for the city in terms of attracting high quality US investment.
Similar firms have since arrived in Belfast, most notably CME Group, the Chicago-based derivatives exchange.
An industry source in Belfast described the deal as good news, with the new owner considered a safe pair of hands.