Noctilucent clouds: Summer skies produce twilight show in Northern Ireland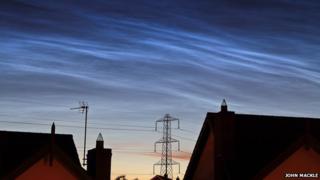 Weather conditions were perfect on Thursday night for spotting noctilucent clouds across various parts of Northern Ireland.
So what are these special clouds?
Noctilucent is derived from Latin and means 'night shining' but these clouds are actually illuminated by the sun.
Due to this, they can only be seen at this time of year in Northern Ireland as the sun is in the right position, relative to the horizon.
And because of our latitude we are perfectly placed for the free show.
'Edge of space'
Night clouds or noctilucent clouds are made of crystals of ice and are observed at twilight.
They are a fragile, wispy cloud-like phenomena that are the "ragged edge" of a much brighter and pervasive cloud layer called polar mesospheric clouds in the upper atmosphere.
Noctilucent clouds are the highest clouds in Earth's atmosphere, basically on the edge of space, at altitudes of around 76 to 85 kilometres (47 to 53 miles).
They are normally too faint to be seen, and are visible only when illuminated by sunlight from below the horizon, while the lower layers of the atmosphere are in the Earth's shadow.
When they are seen they can take on various colours and stand out from the lower level 'weather bearing' clouds, which will be in shadow.
Noctilucent clouds are not fully understood and are a recently discovered meteorological phenomenon; there is no record of their observation before 1885.
They can only form under very restrictive conditions; their occurrence can be used as a sensitive guide to changes in the upper atmosphere.
The occurrence of noctilucent clouds appears to be increasing in frequency, brightness and extent.