Banners at east Belfast home treated as hate crime by police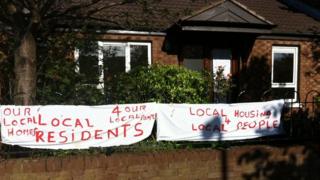 Police are treating as a hate crime banners put outside a house in east Belfast where a man originally from Nigeria was due to move in.
Michael Abiona, 34, was greeted with posters reading "Local Houses 4 Local People" at Glenluce Drive on Tuesday.
The Housing Executive is treating it as "racial intimidation".
First Minister Peter Robinson said on Wednesday: "I'm not sure this can be described as racism in terms of what the intention of the local people was."
He added: "There is massive concern (about housing), and of course, local in these terms means very local.
"You might have had exactly the same reaction if it was somebody from up-country moving into a local area where local people weren't able to get houses in the locality where they've been brought up in."
The DUP leader said: "Nobody should be judged on the colour of their skin, on their political or religious background, or their race."
Liam Kinney from the Housing Executive disagreed with Mr Robinson's assessment.
"It would be determined as racial intimidation by the Housing Executive," he said.
"A gentleman of ethnic origin was unable to enter a house to which he was entitled and that is wrong and shouldn't be happening."
Mr Abiona, who has been living in Northern Ireland since 2010, said he was too afraid to move in.
He has osteoarthritis and was allocated a bungalow in Garnerville by the Housing Executive.
A resident of Glenluce Drive told BBC News NI that the protest was "not racist" and was about "a bungalow equipped for pensioners and disabled".
"They cannot put families into them," she said.
"We're actually horrified we're being called racist, because if you come up into our community at 3pm, and see the children getting out of school and the people, this is a mixed community."
Anti-racist rallies have been held across Northern Ireland in recent weeks following a spate of hate crimes.