Pipe bomb found during Spamount Street alert in Belfast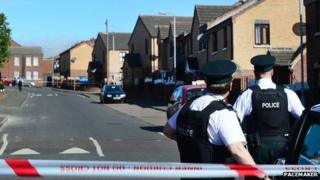 A pipe bomb has been found during a security alert in north Belfast.
The alert began on Wednesday morning after a suspicious object was found at Spamount Street in the New Lodge area. A number of homes were evacuated.
Police said it was examined by Army bomb disposal experts and declared a viable device.
Sinn Féin North Belfast MLA Carál Ní Chuilín condemned those responsible, saying they had endangered the lives of people living in the street.
"Those criminal elements who have left a pipe bomb in a busy street have shown utter disregard for this community," she said.