Blackford Dolphin oil rig leaves Harland and Wolff shipyard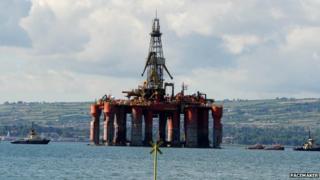 The Blackford Dolphin oil rig, which had become part of the east Belfast skyline in the past six months, has left the Harland and Wolff shipyard.
The rig initially came in for a 60-day refit last November, but was found to need much more extensive repair work.
About 600 workers have been employed on the project - about 400 of them brought in from outside Northern Ireland.
On Tuesday, it began its journey to the North Sea where owners Dolphin Drilling will put it back into service.