Colin Balmer, 24, is jailed for causing Ammie Rea's death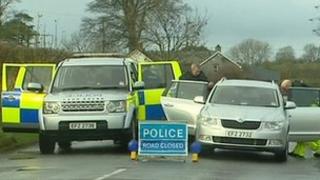 A man who admitted driving "a wee bit too fast" when he crashed his car killing his girlfriend has been jailed for six months for causing her death.
Ammie Rea, 19, from Ballyclare, was killed on the Ballymena Road, Doagh. on 4 December 2011.
Her boyfriend, Colin Balmer, 24, from Staffa Drive, Ballymena, was driving the car.
It skidded off the road, smashed through a fence and hit a tree.
No other vehicle was involved.
In court in Antrim on Tuesday, Balmer admitted causing Ammie's death by careless driving. He also pleaded guilty to driving without insurance and fraudulently using a motor tax disc from another car.
Judge Desmond Marrinan said he accepted that Balmer had a "deep and genuine remorse for the catastrophe". He said that Ammie had been a strong and good influence on his life despite their short time together.
"It is clear to me that the driver was driving too fast for the road conditions and he accepted that, effectively, when spoken to by police," he said.
The judge said he was also keenly aware of the continued suffering of Ammie's parents.
He added while there were powerful mitigating factors in Balmer's case, he also needed to bear in mind that the aggravating features were not insignificant.
No-one, he said, unless they had experienced it, could have the slightest idea of what it would be like to lose a child, whatever their age.
He said Ammie had been lucky to have grown up in such a loving, decent and kindly family.
Ammie's mother wept openly during the hearing.
Earlier, a prosecution lawyer said the death had been devastating for Ammie's parents.
He said Balmer's previous record of driving without insurance and while disqualified showed a disregard for the law.
Balmer's defence lawyer said his client wished to express his remorse "for the heartfelt loss" of Ammie. He accepted she was "the ideal daughter and much loved".
He said Balmer had had a tragic background as a youngster, but Ammie had been a strong and growing influence on his life, changing its direction for the better.
Mr Kane said Balmer suffered serious injuries in the crash which was caused by his inappropriate speed combined with possible weather and road conditions, that made driving dangerous.
He said Balmer understood clearly how the Rea family might feel, "as he is the man behind their misfortune", but that his own feelings and emotions were genuine.