School inspections criticised by NI Assembly's education committee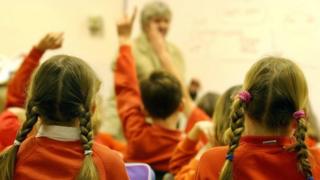 The Northern Ireland Assembly's education committee has criticised the way schools are inspected.
In what has been described as a "radical report" the education committee said it wants much more support for struggling schools.
It also called for greater independence from the Department of Education.
The MLAs said each inspection should produce two separate reports - one in detail for the school and another in plainer language for parents.
The aim of the second inspection report would be to help parents understand a school's strengths and weaknesses, the committee said.
For six months, MLAs have been hearing evidence about the way Department of Education inspectors judge and report on a school's performance.
They have concluded that the inspection process could be improved and that it should move a step away from the department.
The education committee wants inspectors to be more transparent in their dealings and to stop showing draft reports to the department.
However, Sinn Féin disagrees and has said research should be carried out before any move to make the inspectorate independent.
The education committee also wants a parents' body set up so that they can get more involved in efforts to improve their children's school.