Visteon site only suitable for housing or small commercial development says report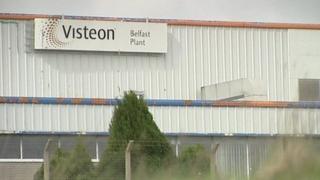 The former Visteon site in west Belfast was only suitable for housing and a small amount of commercial development, a report prepared for the Fold Housing Association has concluded.
Fold wants to build more almost 250 homes on the site along with a community centre and business units.
Some local people have objected, saying that it should be reserved for economic or industrial use which would bring jobs back to the area.
The Visteon factory closed in 2009.
More than 200 workers lost their jobs as a result.
The factory, which sits in a visually prominent site next to the M1 motorway, has remained empty and has been deteriorating.
A report written by property consultants Lisney said the site was "considered unsuitable for the creation of large scale, major employment-generating activities".
Lisney cites its proximity to homes, lack of motorway access and significant clearance and remediation costs.
Taking these factors together, it said there was a "major barrier to commercial development".
The firm revealed that Tesco had at one time expressed an interest in developing a supermarket on the site, but did not take the project forward due to access and planning reasons.
The report also said the west Belfast firm Deltaprint had considered relocating to the site, but instead decided to expand its existing factory at Kennedy Way.
The Lisney report added that accessible and established business locations exist in greater Belfast that were more attractive to potential occupiers.