NI wind farm scaled back and will avoid key fishing grounds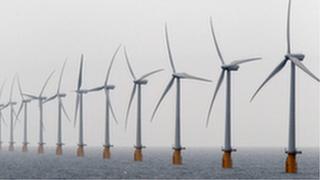 Northern Ireland's first major off-shore wind farm has been scaled back in size and will seek to avoid key fishing grounds.
The consortium behind the £1bn project - First Flight Wind - said the move followed consultations with local communities and others.
The area where the turbines will be placed is midway between Ardglass and Annalong off the County Down coast.
When operational by 2020, it could produce 10% of NI's energy.
This is half of what was previously thought.
First Flight Wind said the scale of the project would "minimise potential impacts on shipping and commercial fisheries."
Concerns had previously been raised about the proximity of the Warrenpoint-to-Heysham shipping route.
First Flight Wind said it would now "seek to avoid" that route and "limit where possible" encroachment into important prawn fishing grounds.
The development has yet to secure planning consent and other approvals. It is still not clear how many turbines would be sited miles out to sea.
But First Flight Wind has now identified a "central zone" where the turbines are likely to be.
In 2011, the Crown Estate, which owns the UK sea bed, identified a broader area it permitted them to explore.
Michael Harper of First Flight Wind said: "It has always been our intention to develop an offshore project that works alongside other marine users such as shipping and fishing.
"Throughout the process, we are seeking to take into account the concerns of local stakeholders as we consider where to locate the project and how to design it."