John Bercow vetoes Sinn Féin invite to event at his home residence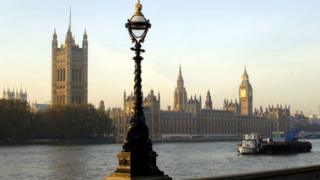 An invitation to Sinn Féin's MPs to attend an event in the Palace of Westminster has been vetoed by the Commons speaker.
John Bercow has ruled the party's five MPs are not entitled to attend an event next month at his official residence to mark the centenary of the Home Rule Act.
The event has been organised by the Irish Embassy in London.
It will now be held at its premises in Grosvenor Place on 1 July.
The event had been scheduled to take place in the speaker's house and was intended to mark the centenary of the 1914 Home Rule Act, one of the most significant pieces of legislation in Irish history.
A spokesperson for the speaker told the BBC: "Sinn Féin MPs do not take their seats in the House of Commons. In keeping with previous speakers' decisions and long-held practice, the hospitality of the state rooms in speaker's house is not extended to Sinn Féin MPs. This is, in part, a mark of respect to the house.
She also said: "This event was not organised by the speaker's office. It is my understanding that it is still taking place in a different venue in London."
A spokeswoman for the Irish Embassy told the BBC: "The Irish Embassy in London is hosting a series of events during this decade of important centenaries. Our central theme is that all our commemorations are marked by inclusivity."
She said the guest list to next month's event included a wide range of people from different backgrounds.
'Challenges'
"Those invited to this event include members of the Irish community, academics and a broad range of parliamentarians," she said.
In response to the speaker's decision to bar Sinn Féin MPs from the original function, the party's MP for Newy and Armagh, Conor Murphy, said: "There is no doubt that this decade may bring a number of challenges for all of us as we face up to the history of Ireland and consider how it impacts on our present.
"A wide section of civic society including political parties, community and voluntary organisations, churches, civic leaders and business leaders have appealed for these centenaries to be respectful and inclusive. Sinn Féin endorses this view."
Mr Murphy said it was "unfortunate" that Mr Bercow wished to "put himself outside of this vast body of opinion for reasons of political posturing".
Next month's event in London will be hosted by the ambassador of Ireland Mr Daniel Mulhall and his wife, Greta.
It will also feature guest speakers, including the former Taoiseach (Irish prime minister) John Bruton, Baroness Shirley Williams,and Irish Arts Minister Jimmy Deenihan TD.