Fort Centre, Maghera: Horses attacked and chased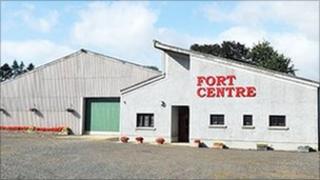 A centre that provides horse riding lessons for children with learning difficulties has said its horses have been attacked twice over the last two weeks.
The Fort Centre, in Maghera, County Londonderry, have had their ponies chased and jumped on, causing them to become stressed.
The centre provides free riding lessons for up to 80 people a week.
Volunteers said lessons may be cancelled if the attacks continued.
Four years ago, a pony at the same centre had to have stitches after being hit with a bottle.
Julie Jordan, chair of RDA (Riding for the Disabled Association) NI, said the incidents were "very distressing".
"If this behaviour continues, then the ultimate losers will be the riders," she said. "It's a real kick in the teeth for everyone."
The centre provides riding services for people with learning difficulties and works closely with pupils with nearby school.
'Chased with sticks'
However two weeks ago, one of the centre's managers noticed that the horses had churned up a field through galloping.
"These horses and ponies are very used to humans," said Ms Jordan. "So to get them to run takes something awful."
On 6 June, a member of the public reported a group of teenagers, all aged 15, chasing the horses with sticks and one standing on a horse's back.
Although the police were called, the centre declined to press charges.
"We said that if they wanted to come down and volunteer, then they can see the horses and what we do," said Ms Jordan. "The police took them home to their parents."
However, Ms Jordan said the horses were once again spooked recently and that volunteers believe the attacks have continued.
"We don't know who has done it but we believe they were chased again," she said.
"When you work with ponies a lot, you get to know them and it was clear they were stressed.
"If they're stressed it takes a long time to get them settled and they can't be used for classes."
Ms Jordan said the centre provides a vital service and it would be "very disappointing" if classes had to be cancelled or postponed.
"The people who come to the centre get great benefits in terms of physical movement and confidence from the classes," she said. "Many of them look forward to their sessions with the horses as a highlight of the week."
Police confirmed they had attended the Fort Centre on 6 June and spoke to three youths following a report of them jumping on horses.