What could interest rate rise mean for Northern Ireland?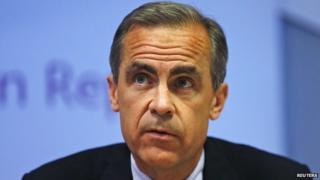 The governor of the Bank of England, Mark Carney, has signalled interest rates may rise from their record lows before the end of this year.
BBC NI Economics and Business Editor John Campbell assesses what the move could mean for Northern Ireland.
HOUSE PRICES
There are some features of the Northern Ireland economy that mean a rate rise will impact in unique ways, most obviously the housing market, which suffered a much more dramatic fall than any other part of the UK.
The market has only just begun to recover in the last few quarters and a rate rise could put a brake on that as mortgages become more expensive.
Northern Ireland also has a huge issue with negative equity.
The mortgage service firm HML calculated that 41% of mortgages taken out since 2005 are in negative equity.
Generally if you are in negative equity you will not be able to move your mortgage or get any sort of discounted deal.
That means you will be stuck on the standard variable rate (SVR) and won't have the opportunity to get onto a fixed rate deal ahead of the rate rise.
Having to absorb the full rate rise will put a strain on a household's finances and means there is less money to spend on other goods and services.
As an example, a £150,000 mortgage with 20 years to go sitting on an SVR of 3.99% has monthly repayments of £918. A 0.25% rise brings that to £939 a month while a 0.5% rise takes it to £960.
HOUSEHOLD FINANCES
One effect of rising rates, or even talk of rising rates, is to strengthen sterling against other currencies, notably the euro.
The stronger pound will mean that if you are planning to travel abroad this summer your money will go further.
The better exchange rate should also reduce 'imported inflation', which will help keep food prices down and mitigate rising oil prices.
A higher interest rate will also be welcomed by those who rely on interest payments as a part of their income, which is mainly older, wealthier people.
BUSINESS
The Dublin economist David McWilliams talks about the 'Sainsbury's Index of exchange rates', specifically the Sainsburys store at the Quays shopping centre in Newry, County Down.
When the euro is strong against the pound it makes sense for shoppers from the Republic of Ireland to travel to Newry where their euros will go further.
As rising interest rates make sterling stronger, it no longer makes sense to make that trip.
Traders in Newry are very familiar with the swings and roundabouts of currency fluctuations, but this will have wider impacts.
For example, Northern Ireland is struggling to attract tourists from the Republic - as sterling strengthens against the euro it will be a harder task still.
It's also a big issue for exporters - a stronger pound makes it more expensive to buy their goods abroad, putting a squeeze on profits.
AGRICULTURE
Ulster Bank economist Richard Ramsey points out that the Single Farm Payment - the main subsidy farmers get from the the EU - is set in euros and then converted to sterling.
That rate is set at on the last day of September each year, based on the euro/sterling exchange rate in the European Central Bank.
So again as sterling strengthens it is bad news for farmers.
DON'T WORRY TOO MUCH... YET
All the mood music from the Bank of England is that the rises, when they come, will be gradual and limited.
In other words the rises will most likely be at increments of 0.25% and won't come month after month.
That will give households and businesses time to adapt and hopefully benefit from an improving economy.