Man dies in diving accident off County Donegal coast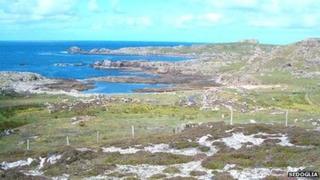 A man has died in a diving accident off the County Donegal coast.
A group of divers were off Malin Head at Inishtrahull Island when one of them got into difficulty.
The Irish coast guard helicopter airlifted the man to Altnagelvin Hospital, but he was pronounced dead.
The helicopter had been tasked to assist in the rescue of a man in County Antrim who had fallen on cliffs when it was diverted to the accident in County Donegal.
Ian Murdock, from Belfast Coastguard said the alarm had been raised by a man on a boat near the island.
"He reported a diver had made a rapid ascent from 45 metres and he arrived on the surface unconscious so we re-tasked the helicopter to that job which was just off Inishtrahull," he said.
"The diver was airlifted and was in hospital within an hour. He was a Polish national, we believe, but unfortunately that he was dead on arrival."
The man who fell on rocks at Fair Hair near Ballycastle, County Antrim, is being treated in the Causeway Hospital in Coleraine.
He was fishing with two friends when the accident happened on Sunday morning.
It is believed he suffered a leg injury.