Woman found dead in Ballymena was Denise Dunlop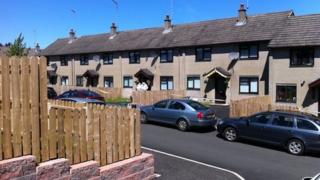 The woman who was found dead at a house in Ballymena, County Antrim, was Denise Dunlop, who was 32.
Police launched a murder inquiry following an incident at the property in Centuripe Avenue in the town in the early hours of Sunday morning.
A 41-year-old man has been arrested and is being questioned at Ballymena police station.
BBC NI reporter Mervyn Jess visited the scene and said it was not yet clear how the woman was killed.
"Residents I spoke to say they didn't know much about the victim," he said.
"Most have only moved in over the past six months and they say people keep themselves to themselves."
The properties were previously used as family accommodation for soldiers on the site of the former St Patrick's Barracks.
They were taken over by the Fold Housing Association and civilian families moved in late last year.
North Antrim MLA Daithí McKay urged anyone with information to contact the police.
He said: "Of what I understand it was a horrific death so first and foremost, our thoughts and prayers are with this young woman's family.
"Obviously given the circumstances of her death we would encourage anyone with information relating to it to bring that forward."